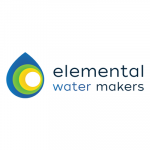 Website Elemental Water Makers
Solar powered harbor demo development to ensure fresh water today, without limiting tomorrow
Location: Hellingweg 9a, The Hague (Scheveningen), Netherlands
Duration: 3-6 months, 4-5 days a week
Start Date: Around the 1st of September
Elemental Water Makers is looking for someone to help design, build and test a solar powered desalination system to be implemented in the harbor of Scheveningen. We ensure fresh water today, without limiting tomorrow. As a result of increasing fresh water scarcity and the limited availability and consequences of fossil fuels, we came up with solutions to enable fresh water from seawater using sun, wind or wave energy. We are busy to solve fresh water scarcity, using only the sea, sun, earth & wind since 2012. In 2017, the Ruler of Dubai awarded us with the 1st prize of the Mohammed bin Rashid Al Maktoum Global Water Award. We are active on water scarce islands and coastlines in more than 7 countries with over 10 projects. Please find a proper introduction here.
What do you do?
Elemental Water Makers has developed and installed a variety of solar powered desalination systems. We now want to convert this knowledge into an easy to deploy containerized unit implemented as a demo system near our office. To do so we need your help with the following tasks:
Main technical tasks:
– Design compact housing and mounting with 3D CAD software, robust for transport while meeting requirements for international sea transport (of modified container)
– Determine the options with our container modification partners (door, ventilation, generator exhaust etc)
– Investigate easy to assembly pipe fittings and other mounting materials
– Arrange smart solar frame for quick deployment and possibly angle adjustments to local circumstances
– Design a robust and easy to deploy intake/discharge system
– Order, Build and Test the system (all with EWM assistance)
Social tasks;
– Arranging; permits, water user, promotion & media, 2D/3D marketing visualisations
What are we looking for?
– Basic experience/courses covering electrical power, flow and/or water treatment
– ''do it yourself'' mentality / workshop experience
– 3D CAD software experience
– Higher skills in solar power/electrical engineering are an advantage
– HBO or University education
What do we offer?
An exciting and hands-on internship assignment which allows you to deploy a fully functional solar powered seawater desalination system. During this process you can expect a vibrant office with guidance and assistance throughout the project. Simultaneously this project offers an insight in the day to day business of an innovative company working on projects around the world in order ensure fresh water today, without limiting tomorrow.
Do you want to get a taste of what it is like to realize a cleantech solution in the water-energy nexus from a small ambitious office in a global playing field? Then I'm looking forward to hear from you through reinoud@elementalwatermakers.com.