Sustainable Startups
March 19 @ 3:45 pm

-

8:30 pm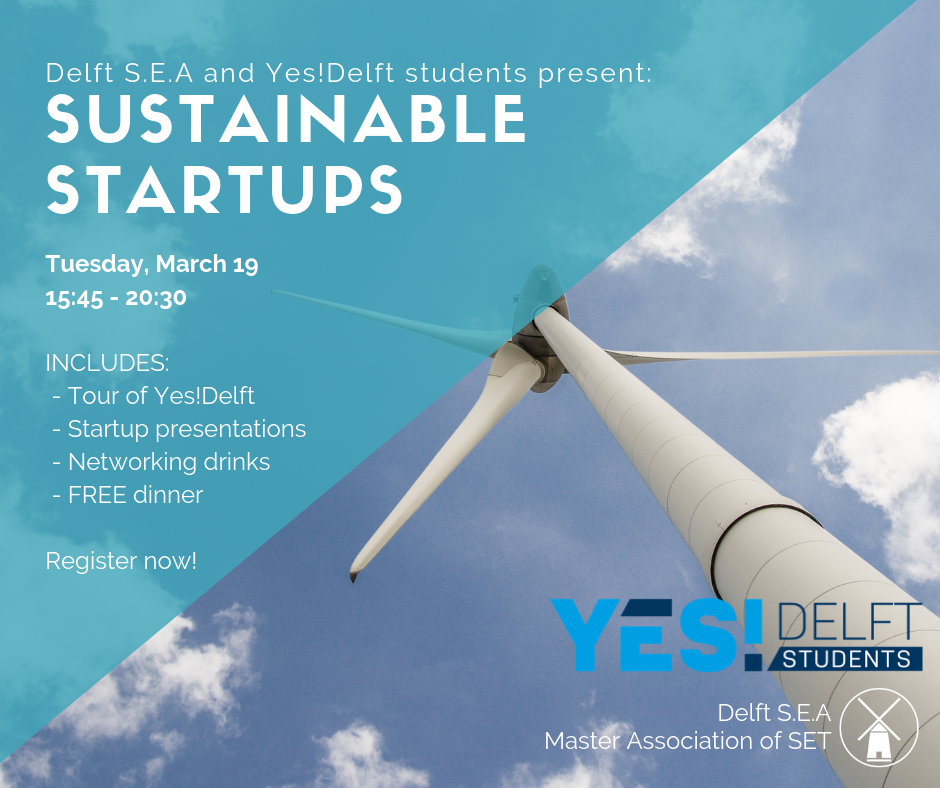 Curious about Entrepreneurship? Interested in finding an internship/MSc thesis?
You definitely don't want to miss this event then!
On Tuesday 19th March we are going on tour around Yes!Delft, one of the biggest tech-incubators in Europe. A real treasure hidden on our campus.
After getting to know the installations and a few Start-up offices we will head to the Business Lounge where Yes!Delft Students will tell you more about Entrepreneurship & what they organise and where the remaining Cleantech Start-ups will present their story and opportunities.
Last but not least, we will have some networking drinks & dinner, the perfect time to interact with Start-ups and discuss future opportunities 🙂
Event schedule:
15.45 –> Meet up in the Yes!Delft reception, group formation
16.00-17.00 –> Yes!Delft tour, including visits to 4 Start-up offices
17.00-17.15 –> Break
17.15-18.00 –> Business Lounge: Yes!Delft Students & Start-up presentations
18.00-18.15 –> Break
18.15-19.00 –> Business Lounge: Remaining Start-up presentations & Closing
19.00-20.30 –> Networking drinks & dinner
Please do not forget to sign up here!
Please be aware that registration is limited to 50 students, so be sure to sign up early! In the case that the maximum capacity is reached, priority will be given to students who are members of Delft S.E.A
Hope to see you there!